Hot Tub Installation
Hot Tub Installation for an Island Escape Spa, Thermaspa, Morgan Spa or Dynast Spas
Whether you are deciding on purchasing a 2 to 3 person spa, 4 to 5 person spas, 6 person or a Large family size spa, you must decide your ideal placement of the tub prior to it arriving at your home. This is especially important for an outdoor Large Hot tu, Thermaspa, Morgan Spa, or Dynast Spas because an outdoor hot tub can be installed below grade (i.e. burred) with certain specific accommodations.
It is very important that the soil does not come in contact with the exterior of the hot tub, and there needs to be space for draining.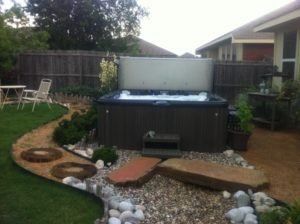 Minimally, a Thermaspa, Island Escape spa, Morgan Spa, or Dynast spas need 12" of clearance (a 5' diameter requires a 7' wide hole), a pit with a level surface for the Island Escape or Morgan spa to sit on, and retaining walls. In addition, some customers choose to place a sump pump in the 'pit' for additional drainage. Mainly, there are two components for hot tub installation: a level, strong surface for the Island Escape and Dynast spas to rest on and an electrical circuit to power the Island Escape or Morgan spa. A strong, level surface is important because spas become very heavy once filled with water, and you don't want the hot tub to sink into the ground. The standard electrical requirement for a complete Island Escape or Dynast spas system is the standard 220 volt circuit including a white neutral wire and a green insulated ground wire (required by code). Electrical codes often require that the wiring be in a metal conduit and that a disconnect switch be within visible distance from the hot tub pump (local codes may differ). The actual installation process for the Island Escape spa, Dynast spas, Morgan spa or Thermaspa can be broken down into four steps.
Below are the 4 easy steps to take in order to install your new hot tub:
STEP 1: Place the Island Escape or Thermaspa on the level surface or lower it into the pit. This should be ready before delivery.
STEP 2: Hook up the spa to the electrical source. This can be accomplished by a general electrical technician.
STEP 3: Fill the Island Escape or Dynast spas with water from a garden hose or whichever water source you desire.
STEP 4: Turn on your outdoor Island Escape or Morgan spa, insert the appropriate chemicals & allow your hot tub time to heat to the desired temperature.
Indoor hot tub installation is similar to outdoor installation, but it has a couple more details you should take into consideration. Once again, when you fill the Island Escape or Dynast spas with water, they can weigh up to 3000 pounds. This is extremely important to acknowledge because you have to make sure the floor you are setting it up on can hold that kind of weight. Another characteristic you must think about is the amount of water vapor your indoor Morgan spa will be creating. Just like a bathroom shower, you have to make sure that the room the Island Escape spa or Thermaspa is residing in has proper ventilation so that it doesn't cause damage to your walls and ceilings. And lastly, just like the outdoor hot tubs, your indoor hot tub requires a large amount of electricity; therefore it would be wise to hire an experienced technician to set that part up for you.
Home
/
Hot Tub Installation