Description
Leave the outside world behind and recharge after a long day in meetings and a honk-fest, traffic-filled commute. Forget "Arrghh" and bring in a calming "ahhh". The Mspa Tekapo boasts 132 air jets with whisper quiet technology for optimal relaxation. The air jets release bubbles that surround, support & massage your body for the luxurious experience that will have you coming back time and again. Looming large and tall at 27″, this 73″ X 73″ spa has a savvy style and superior support as you enjoy family, friend or alone time. Featuring a bias air chamber design with whisper quiet technology, the D-TE06 is a jet Black exterior rhino-tech 6-layer reinforced PVC spa with a gorgeous midnight premium PVC liner. Square shaped and inflatable spa with up to 6 bather seating capacity, a built-in heater and an external control system, it's your best choice for optimal relaxation in this Heaven on Earth. You work hard for your money, and you deserve a luxury experience at a fair price. Priced for the everyday consumer, Mspa Tekapo is the luxury that fits YOUR budget.
BUBBLE AIR JETS: 132 effervescent air jets deliver gentle, caressing bubbles
RHINO TECH: Charcoal grey Rhino Tech 6-layer reinforced PVC cover subject matter
SAFETY BUCKLE COVER FOR CHILD SAFETY: Safety buckle design connects the highest lid to the bottom mat
AUTO FILTRATION: Four hour auto-filtration serve as leaves you water crisp and clean.
CAPACITY: As much as 6 Bather Capacity
---
MSpa Alpine B-091 Review
The MSpa Alpine Bubble Spa B-091 is a unique Hot tub spa among portable inflatable hot tubs not only because it's large enough to seat a family, but because it eschews the usual round shape favored by most inflatable spas for a square design that offers extra seating space.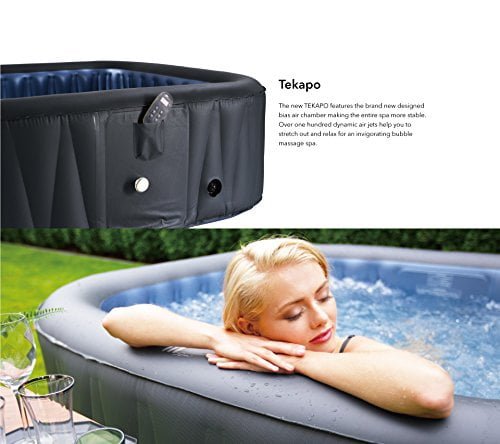 The square shape is a nice departure from the predictable round shape of other inflatable tubs, not in the least because it has a larger capacity. The square tub is large, measuring 73 inches across, but it will easily seat four adults and two children. However, it lacks a padded ground mat. If you want a hot tub with a comfortable base, consider the Coleman Lay-Z-Spa 54131E. The interior of the tub is 53 inches across and 27 inches deep, holding up to 245 gallons.
If you want a tub that's big enough for the whole family, or a small party, the Alpine may be worth considering. The tub is made from a six-layer laminated PVC material that MSpa calls Rhino-Tech, and it has vertical interior vinyl panels that add greater rigidity in the tub walls. The uninflated, unfilled tub weighs 66 pounds, which is still quite portable.
The Alpine B-091 has a combined pump and heater unit, but unlike the external heating systems used by most inflatable hot tubs on the market, this one is built into the tub wall. The unit is controlled with a digital control panel that extends out and up from the side of the tub. The pump and heater unit is powered by a standard 110 to 120-volt outlet, and it has a ground fault circuit interrupt (GFCI) plug built into the included power cable. The heater raises the water temperature 2 to 3 degrees Fahrenheit per hour, so you'll need to let it heat up overnight to reach anything near the tub's maximum of 104F. An integrated air blower does double duty: It powers the tub's 120 bubble jets, and it can also be used to inflate the tub during setup. This inflatable hot tub comes with an air pressure gauge to prevent overinflation.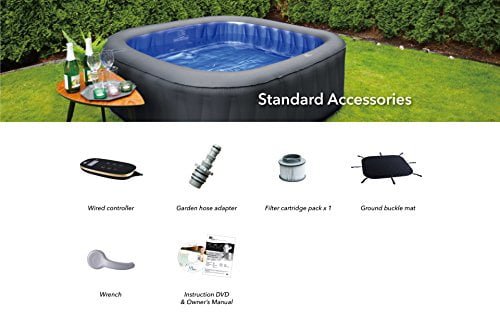 An additional accessory included with this portable hot tub is a protective ground mat, which measures just slightly larger than the footprint of the tub. The Alpine B-091 has a fitted top cover for safety with a foil lining and inflatable lid for heat retention. While the cover is secured with locking straps – a common feature on inflatable spas – the Alpine doesn't use straps integrated into the side of the tub; instead, the cover's latches connect to straps attached to the included ground mat.
This inflatable spa comes with two filter cartridges, which attach to the inside of the tub. It also comes with a garden hose adapter for the drainage spout, making it easier to empty the tub. The tub also comes with an instructional DVD that walks you through setup. MSpa covers the Alpine B-091 with a six-month warranty on the inflatable tub and a 12-month warranty on the electrical components.
The MSpa Alpine B-091 offers a unique square design, a large seating capacity and a decent selection of accessories. While you may be wary of the staggered six- and 12-month warranty – we generally suggest looking for inflatable tubs with a longer warranty period – the MSpa Alpine still deserves consideration if you're shopping for a hot tub with lots of seating.