Description
American Spas AM-630LM 5-Person 30-Jet Lounger Spa with Backlit LED Waterfall, Tuscany Sun and Mahogany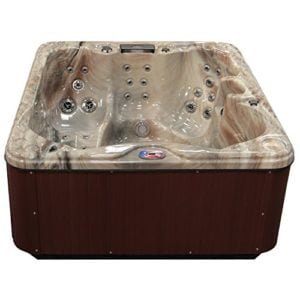 With classic design and state-of-the-art technology, the AM-630L 5 Person Lounger Spa by American Spas delivers a total body hydrotherapy experience. Enjoy soothing contoured seating for five and a full-length lounger that delivers the ultimate body massage. Each of the 30 jets are carefully placed along the lines of the body, allowing you to massage away stress whilst comfortably leaning back in the luxuriously-designed seating. The American Spas Premium Cabinet Panels feature the durability and insulation of fiberglass. This unique spa has a back-lit cascade waterfall feature and a multi-color spa light that may be programmed to alternate between seven colors on two color modes or shine a particular hue. Designed to exceed expectations, American Spa uses a patented 7-layer laminate Fiber steel Construction system, which is reinforced with steel and wood to create the strongest shell in the industry. To further ensure durability and performance, this spa is built from the thickest acrylic to be had to keep the shell strong at critical stress points. This 5 person spa uses smart technology to run efficiently and use less energy. Insulation keeps hot water in and cold weather out to reduce power needs and the Energy Saver Thermo Layer Insulation blanket provides an extra layer of protection. The HydroClear Ozonator purifies water the use of active ozone bubbles that keeps your water clean, clear, and sanitized for hassle-free maintenance. To further reduce chemical usage, the Bio-Clean Filter keeps the spa sanitized and crystal clean always. To offer protection to your spa and investment, a premium Hydro-Armor tapered spa cover provides the final layer of insulation and protection. Energy-efficient and rated to resist 1,500 UV-hours of protection to prevent cracking, splitting, or fading, the Hydro-Armor tapered spa cover is designed with a tapered height that angles downward from the center to the sides to drive off rain and prevent precipitation from pooling.
Sanitize With Less Chemicals
The Bio-Clean Antimicrobial Filter utilizes a special bacteria-fighting agent that prevents harmful microbes and bacteria growth and minimize the need for chemical sanitizes during regular cleaning and maintenance.
Massage Therapy Jets
Adjustable jets offer individual flow control for precise pressure and directional controls to target specific stress points for a unique hydrotherapy experience in each seat
LED Lighting
Multi-color LED spa light that can be programmed to alternate between 7 colors on 2 color modes or shine on a particular hue for a unique, customized topical experience
Hydro-Armor Efficiency
Rated to withstand 1,500 UV-hours, this energy-efficient thermal cover help insulate the spa, keeping the water temperature high and the electric bill low
Acrylic That Is Beautiful & Durable
Designed with the thickest acrylic available and thickest fiberglass backing in the industry, American Spas are built to exceed all expectations
Luxury Seating for Five
Luxuriously-designed contoured seating delivers the highest quality hydrotherapy and relaxation experience available
American Spas Bodega Hot Tub