Description
CoverMates – Square Hot Tub Cover – Cap 84W x 84D x 14H – Classic Collection – 2 YR Warranty – Year Around Protection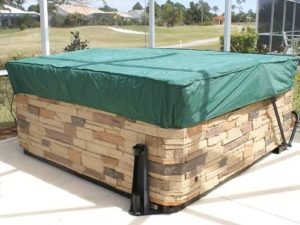 Spas offer a great way to loosen up after a long day, or even a fun spot to share with your friends. But anyone with a spa can tell you that the use of your spa can be very costly if you don't seem to be careful in conserving the energy it takes to heat one up. This is why many people use thick, heavy, foam insulated covers to preserve heat and keep out unwanted guests such as dirt, tree sap, flowers, leaves, rain and other elements. Yet, unless you take care of it, over time these expensive insulated covers can turn into bogged down as moisture begins to seep in and weigh it down until it eventually collapses into your spa.
CoverMates classic square soft cap spa covers can help prevent that by adding a layer of protection designed to resist the worst elements Mother Nature has to offer. The covers simply fit over the top of your insulated cover and hang down to the middle of your spa to keep your insulated cover well protected and working like new, for longer. Our square classic soft cap spa covers are made from 12 mil, commercial grade vinyl with a polyester lining, unlike other covers that offer a felt lining. What's the difference? The felt lining found in other covers tend to attract small insects that make a nest and lay eggs inside of the felt material, at the same time as the polyester lining does not offer those insects the same luxury.
Additionally, the bottom of our square soft cap spa covers are hemmed with an extra thick elastic band to provide a substantial grip around the spa to prevent it from blowing away in the wind. CoverMates classic square soft cap spa covers are made with the highest quality and come with a 2 year manufacturer warranty.