Backyard Hot Tub Pleasant Ideas
Designing your own spa spot at home can be very fun. Thinking of landscaping ideas might be challenging but enjoyable at the same time. When you have a hot tub spa at home, you can build an area in your home or backyard where you can make the most of your hot tub spa and relax. This place can be your escape and you can have amini-vacation here everytime you come home. A hot tub spa offers relaxation at its finest but a good spa area or landscape contributes a great deal to the overall relaxing experience.So how does a good spa area contribute to the overall hot tub spa experience? Have you ever gone to an expensive spa? If you have, you might have noticed the serene and relaxing environment of landscape most spas have.
Preparing landscape for hot tub installation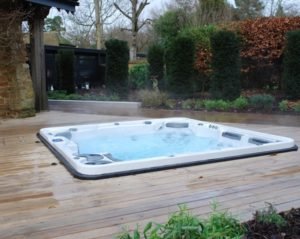 Great deal of work has been put into designing a landscape which is conducive to relaxation. The moment you enter a spa, you instantly feel a relaxed feeling; place itself has a calming effect on the mind. Whether it's the greenery or the furniture or the breeze, it all is essential to the overall relaxing experience and this is usually the reason why most spas are very expensive places. The services can be mediocre if you come to think of it but they charge a great lot because just being in the spa makes you feel pampered. You can also replicate the spa environment by designing your own spa spot. You can hire professional landscapers to design a spot for you but if you are on a budget or just like to undertake projects like these on your own, you can design a simple yet impressive spot. One easy yet not-so-simple option is to build a sunken hot tub spa.
We have found a good selection of spas deals at hottubsdepot.com A sunken hot tub spa is, as its name obviously suggests, is a hot tub spa sunk into the ground. This design keeps the bulky body of your hot tub spa hidden away from view. The idea is to just dig. Find a spot in your backyard where you wish to build your sunken hot tub spa. This area needs to be free of underground gas and water pipes which might get damaged when you dig. If you are not sure, it is best to check your home's ground plan to make sure. Measure an area roughly bigger than your hot tub spa and dig. The shape of the hole should be the same as your hot tub spa and only as deep as midway up the sides of the hot tub or only up to the brim. When digging is done, make sure that the ground underneath is level. Use sand and pack it down the base to make it level and use a spirit level to check. Gently lower your hot tub spa in the hole and pack more sand along the sides if there are any gaps to make it tight.
This is the basic way to build a sunken hot tub spa. You could also choose to strengthen the pit by pouring concrete on it. A sunken hot tub is ideal if you wish to design a nature-themed landscape as the hot tub spa's body is hidden from view which makes it similar to a natural mini pool. Adding plants and other greenery to the area will also help because they are visually cooling. But remember that the key to designing a relaxing landscape is to keep it simple and not to overdo it. Some people become too passionate about designing their spot that they tend to put too much clutter on the space, defeats the idea of a serene and relaxing environment.