Wooden hot tubs first became popular in late 1970's. Although it's not so popular these days, there are still people who own this type of spa, while some are interested to make one. A wooden hot tub is very appealing because of its natural look that perfectly matches a garden landscape, and it is a cost effective alternative to modern hot tubs.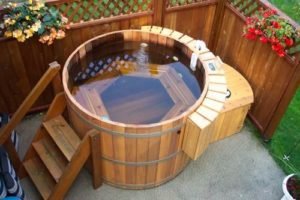 Investing on a wooden hot tub is always a good idea because of the numerous benefits it could give. Owning one will be easier if you have sufficient budget for the project. You can simply hire a professional contractor to build the spa for you, as they can also build a gazebo, wooden deck and other add-ons that will surely make it visually attractive and engaging to use. A wooden hot tub can also be equipped with massaging water jets, which can greatly enhance the level of relaxation every time you use the hot tub. However, if you don't have enough budget don't fret, here are some tips that could help you build one even without hiring a professional contractor.
What type of plumber do you need?
Plumbers are classified according to the level of difficulty that they could handle. They can be a regular plumber who can do small to mid range issues like replacing PVC pipes of your hot tub, fixing clogs, leaks etc. or a master-level-plumber who can do all kinds of extensive plumbing jobs such as transferring the hot tub to another location, remodeling the whole water connections, and inspecting if you met the plumbing codes of your local area etc. A master plumber cost higher than regular, so base your decisions according on how intrusive the repairs will be.
Starting out with the body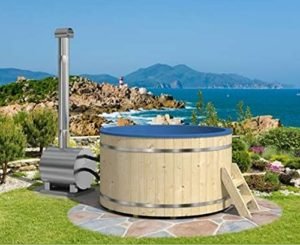 Cedar and redwood are the most advisable material to build your spa, as it is naturally resistant to harmful elements such as heat, cold, insect damages and moisture. Assemble them in a vertical manner (staves) with edges that form a standard 2×4, and angled in a method that it can be connected from edge to edge. Following this procedure will form a round container. Measure the width of the floorboards then carve the bottom of the staves in a manner that it will fit with the floorboards.
Building the Flooring
Assemble horizontal planks or floorboards with one edge that has holes drilled, while the other is built with corresponding pegs. Building the pegs will make it easier for you to assemble the floor board as it will keep it firmly and aligned. Slightly curve the ends of each floorboard in a way that it will form a circle when assembled to each other.
Keeping the whole structure firm
Same with building a round wooden barrel, hold the entire structure using metal bands wrapped around the staves, and then tighten each stave to the metal bands using nuts.
Additional Accessories for your Wooden Hot Tub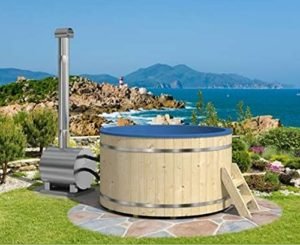 Now that the wooden spa is built, you will now have to attach the heater of the spa that you purchased. If you're not sure about the type of heater that is suitable for your wooden hot tub, check out our portable hot tub and head over to the accessory section to get ideas.
You can also include visual enhancements to the surrounding of your spa, and make it even more relaxing by adding aroma from different kinds of scented materials. It is also best to include installations that focus on your safety while using the spa such as ladder or steps, gazebo and foot grip flooring.
It is now possible to install water jets to a wooden hot tub, there are many hot tub showrooms that sells water jets readily available for installation. However, it is important to take into consideration that you will be dealing with electricity whenever you are installing electrical accessories for your spa. So it is always advisable to apply proper safety precautions while dealing with electricity. Also, ensure that all that the electrical wirings won't trip with the water or moisture.
Save