Swim spas are quickly increasing in popularity for many reasons. New technology has made it possible to have a hot tub swim spa with separate water temperature settings and currents powerful enough to swim against for the purpose of fitness, relaxation, and fun! Swimming is widely recognized as the most beneficial form of full body aerobic exercise because of low impact on joints and muscles, but swim spas hot tubs can also be used for stretching, strength training, water aerobics and cardiovascular training. These spacious hot tubs can turn into a swim spa exercise pool by initiating many powerful jets to give a vigorous workout with just the click of a button.
Swim Spas are typically between 15-20 feet long, 6-7 feet wide, and 3-5 feet deep with many seats to provide ample room for swimming and usually a hot tubs relaxation area with warmer water and many jets for a unique hydrotherapy massage.
Swim spas hot tubs are usually installed outdoors for fun in the sun as well!
Why Buy a Swim Spa?
The benefits of swimming in swim spas
Swimming works out all of the major muscle groups- arms, chest, back, shoulders and legs while improving your cardiovascular condition, muscle strength, endurance, flexibility and posture. Swimming trains your body to use oxygen better without putting excessive strain on your heart like other forms of exercise can. Swimming in swim spas hot tubs is an efficient way of losing weight, and makes blood flow to the heart more effectively. Swimming is also the form of exercise with the least risk of injury to bones, joints and muscles. This is largely in part because you body weighs 1/10 less in water then it does on land with minimal impact. Swim spa training is a great daily exercise routine that you can enjoy for the rest of your life.
Health Benefits of Swim Spas
Swim spas can be enjoyed by the whole family.
Swim spas can be used by everyone in the family- from young kids who are learning to swim for the first time to the elderly who need exercise that is easier on their bodies. Swim spas hot tubs are the perfect safe environment to introduce children to the water. Children feel safe and comfortable learning how to swim knowing that their guardians are right by their side. On the other end of the spectrum, swim spas hot tubs are also perfect for the elderly. Not only they can relax in the warmer hot tub section of the swim spa, but they can also safely workout without putting as much strain on their joints and bones and improving blood circulation.
Swimming Pools for Fitness and Fun with family
Swim spas are less expensive, and require less space, chemicals, and maintenance then pools.
Quality swim spas hot tubs will go for a fraction of the price of the standard pool – with all the benefits of a full sized pool and more! There is no need for a pool and hot tubs combo because with a swim spa they both come together in one multipurpose unit. Swim spas hot tubs also require less chemicals, energy, and maintenance than pools; create less pollution, and save time/money. Most people enjoy being in the water, but it isn't as enjoyable as it once appeared when you find yourself spending more time doing routine maintenance on your pool than actually being inside of it. If you don't have a lot of time on your hands to constantly clean, sanitize, repair, and cover your pool, a swim spa is probably your best solution. The reason you make these purchases is because you want to work out and relax, not give yourself more stress.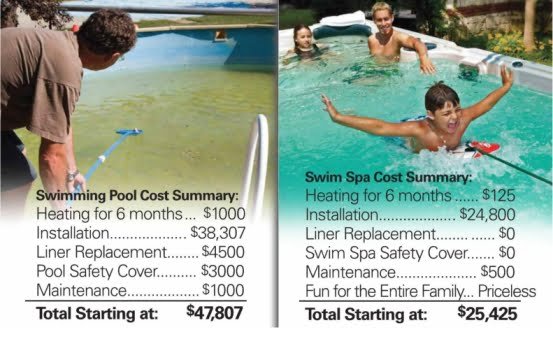 Exercise and relax in your swim spas hot tubs in the privacy of your own backyard.
So you want to exercise in the privacy of your home, but running on a treadmill is boring and you don't have the space for a pool or want to dedicate your life to maintaining it. You are busy, and don't want to look long and hard for a pool to swim in. Why not consider swim spa hot tubs? You can get all of the exercise health benefits of a pool, without having to leave your house! And when you are done with your workout, you can move over to the warmer hot tub section for a relaxing hydrotherapy massage.
Summit Leisure Allseas swim spa video – health & lifestyle

Hydrotherapy Health Benefits of Swim Spas
Hydrotherapy jets used in swim spa hot tubs sales bring relief from muscle stiffness and aches from rheumatism and arthritis through heat, buoyancy and massage. The heat from the swim spas warm water soothes the body while the jets nourish cells and promote regeneration of tissues to help the body heal from injuries and sickness. Hydrotherapy can give benefits to diabetes patients, people with arthritis, ease the pain of migraines, and decrease back pain as well. For more information about the hydrotherapy benefits of swim spas and hot tubs sales, visit our Hydrotherapy Benefits in Hot Tubs Spas page.
IMPROVE HEALTH – -Vitality SWIM SPAS – – Customer's NEW HEALTH – TRUE Opinion